Giving Back to Austin - Dell Children's Hospital
Adventures Outback Is Proud To Give Back To The Austin, TX Community
It was our pleasure to support Dell Children's Medical Center by getting involved with their annual gala this past year. Chaired by Kay and Eric Moreland, this sold-out event was truly spectacular with 100% of their $1,000,000 proceeds donated directly back to the hospital.
We loved getting to know the generous family who took home this awesome playset from the live auction and we hope their family enjoys their backyard fun for years to come.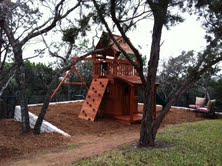 For more information about Dell Children's Medical Center, click here.